Registered Irish Draught Broodmares and Stallion
Tempting Touch
Imported Registered Irish Draught mare, born 1991
Sire: Duleek Hero, RID &nbsp &nbsp Dam: May Queen 2, RID (by Blue Peter, RID)
Grey, 16 hh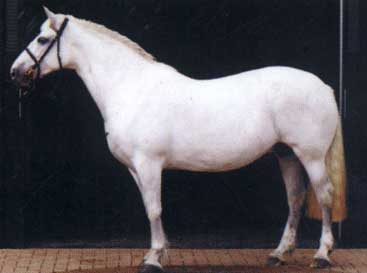 My first thoughts when choosing a broodmare would be about the looks, action and breeding history of the sire and dam. There are several Irish Draught Stallions that have identified themselves as having outstanding jumping ability, as well as the ability to breed internationally successful offspring. Among them, Blue Peter and King of Diamonds are two such stallions with impecable breeding accomplishments. Tempting Touch, whose pedigree traces back to Blue Peter, and King of Diamonds, has good movement and conformation. She has particularly strong forearms, pleasant head with large eyes and is exceptionally intelligent and gentle. Tempting Touch has a strength of character that speaks to you. Her intelligence makes her a leader among other mares in the herd, without displaying overly dominant behavior. She is wise and brave, and passes on these traits to her offspring. She has a calming influence over other horses, and she consistently produces offspring that are very confident.

"There is something special about a Draught where hunting is concerned, because of their intelligence and courage and their speed of learning. A good green Draught can learn enough the first time it goes hunting if the fences are jumpable to come home almost a made hunter. The look after themselves and they look after the rider." -Pat Gleeson (A. Fell)

Knockraheen Rua
Imported Registered Irish Draught Mare, born 1994
Sire: Corrandulla Star, RID (by Skippy) &nbsp &nbsp Dam: Annie Rua, RID (by Ireland's Pride)
Chestnut, 16.3 hh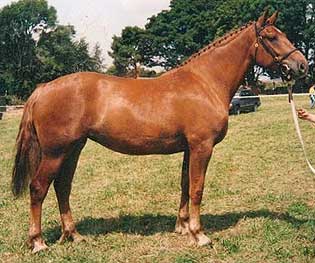 The Irish Draught mare is very good to breed from. When choosing an Irish Draught broodmare one looks for good conformation and movement. The mare is 60 percent responsible for the next generation and the action of foals is frequently the same as the mare. Knockraheen Rua is from a family that has a tremendous reputation for producing intelligent, talented and kind jumpers.

Jumping ability in the Irish Draught is world renown. The ability to breed international success has been achieved often enough to account for the enormous popularity of the Irish Draught. The Irish halfbred has been a world leader in the professional show jumping and eventing arenas. The ideal breeding of the Irish Sport Horse is between the purebred Irish Draught mare with the Thoroughbred stallion.

The Thoroughbred and Irish Draught are from common stock, and have been bred as riding horses, with athleticism consistently retained as a priority. Where they diverge is that the Thoroughbred has additional athleticism, speed and refinement, whereas the Irish Draught has soundness, sense, strength and its associated power and jumping ability. The halfbred are very successful for amateur riders too because they are so easy to ride, unlike some precision-bred horses which can get very upset when things go wrong.

Knockraheen Rua not only has impressive lineage, tracing back to King of Diamonds, but she also represents the ideal Broodmare for the Sport Horse Industry. She is a powerful horse with great substance and quality. Her action is smooth and free, not heavy and ponderous. She has a very proud and attractive head. At 16.3hh her stature is very impressive. She has a great willingness to please, and an exceptionally gentle nature.

Cailin
Registered Irish Draught Mare, born 1998
Sire: Uibh Faili '81, RID (by Glenside, RID) &nbsp &nbsp Dam: Tempting Touch, RID (by Duleek Hero, RID)
Dapple Grey, 16.2 hh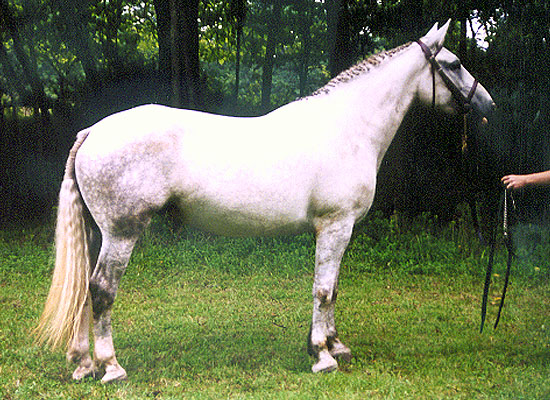 "The qualities demanded of the Irish Draught are soundness of heart, wind, eye and limb (over as long a lifetime as possible); good temperament; intelligence; fertility; strength of constitution including thriftiness; good conformation for economy of effort; and, especially, athleticism." - A. Fell

Cailin is a stunning Irish Draught mare and comes from Supreme Champion Irish Draught winners on both sides of her lineage. Cailin is by Uibh Fhaili, Supreme Champion Irish Draught stallion in Ireland. Her dam, Tempting Touch, was 2003 Supreme Champion Irish Bred Horse for the northeast region of North America. Cailin's sister, Mill Hollow Queen was twice awarded Supreme Champion Irish Draught Mare in Ireland. Cailin's bloodlines include the lineage of the King of Diamonds, RID. King of Diamonds was rated 5th world-wide as leading sire of showjumpers.

Cailin was born on our farm in Montague, New Jersey on February 17, 1998 and was coincidentally the first purebred Irish Draught filly born on this continent. During the summer of her third year she was backed to saddle and rider. The first day backing Cailin I simply brought her into the arena and put on the bridle and saddle. She accepted both immediately and completely with no tensing of her back. After leading her once around a circle I sat up on her and was lead around the arena. She was so perfect and completely relaxed that I got off after only 5 minutes. She would have willingly done more, but I wanted to reward her for being so good. Our next session was 8 days later. I saddled and bridled her and mounted her unassisted. After being led once around a circle, I decided to use leg and rein aids and ride her for the first time. She accepted this too, immediately and completely. No fighting the hand, no tensing against the leg, she never made me kick and never got stuck. I decided to push my luck and go out on our trails with a companion. Even though she has never been out on our trails before, she was completely relaxed the entire time. She never shied, spooked or even tensed up. I expected to at least have my riding skills somewhat challenged, but anyone could have ridden her! She went like a well-trained horse that did this all the time. All of this was accomplished with Cailin with no lunging and none of the many training methods I am well versed with. I have never experienced or even heard of a horse this easy to back and train. Cailin is consistently well behaved and easy to handle in every way. Cailin has a genuine love of human contact and respects her handlers. She has passed on many of her wonderful traits to her foals "Bridget's Irish Princess", by Coconut Grove and "Cailin's Irish Diamond", by O'Leary's Irish Diamond. Cailin has a stunning presence and a remarkable sense of confidence and intelligence that she passes onto her offspring.

Irish Dancer
Irish Sport Horse Stallion, born 2000
Sire: Reputed Testamony, TB &nbsp &nbsp Dam: Knockraheen Rua, RID (by Corrundulla Star, RID)
Bay, 16.1 hh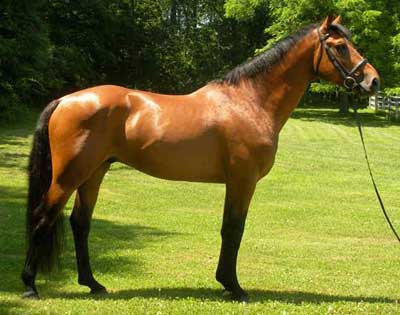 When choosing a stallion you should look for a horse built for athletic potential and free of physical flaws that contribute to unsoundness. Irish Dancer has correct conformation and wonderful movement. He is exceptionally gentle and easy to handle. He is responsive to the aids, soft and supple, forward thinking with light and springy movement. Irish Dancer comes from exceptional bloodlines on both sides. His dam, Knockraheen Rua, was superbly built with a gentle temperament and a natural love and trust of human contact. Knockraheen Rua decended from great Irish Draught showjumping lines. Irish Dancer's sire, Reputed Testamony, is an exceptional Thoroughbred stallion who passes on refined conformation, springy movement as well as athleticism to his offspring. Irish Dancer has inherited his dam's temperament and his sire's athleticism.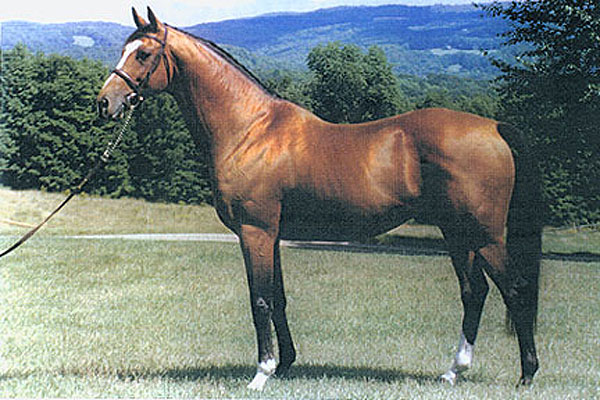 Reputed Testamony, TB Stallion; sire to Irish Dancer

Reputed Testamony is beautifully balanced with a naturally uphill conformation, short back and powerful hindquarters. The average American Thoroughbred races 15 times. Reputed Testamony raced 55 times; placed first-third, 26 times; and placed first-third in 10 stakes. 1996 Olympic individual bronze medalist, Kerry Milliken, says of Reputed Testamony, "Having spend years evaluating horses looking for that great athlete, I can say with great confidence that Reputed Testamony has the qualities necessary for today's competitive horse. What makes him stand out from the rest is his combination of exceptional movement through his shoulders and hindquarters, correct conformation, eye catching looks, and toughness with a solid mind. Even after his long, successful racing career he still moves fresh as a four year old."